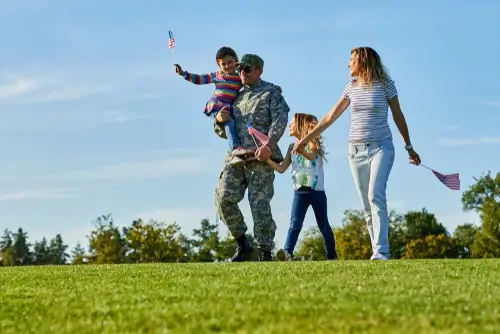 VA loans, mortgages designed for active or veteran military members, have some of the best terms in the market. If you have a conventional mortgage but qualify for a VA loan, you may want to consider refinancing to take advantage of the many rates and term benefits.
What are the advantages of a VA Loan?
VA loans are sponsored by the Department of Veteran Affairs, which means lenders have a guarantee of repayment from the government if the borrower defaults. That takes away much of the lenders' risk in making the loan and they are willing to offer much easier qualifications. Those include:
No Down Payment – this is an almost unheard-of benefit; even government-backed FHA loans require a minimum of 3.5% in down payment.
No Mortgage Insurance – most conventional loans will require the borrower to pay private mortgage insurance (PMI) until they reach 20% equity in the property. That premium can add up to thousands of extra dollars a year out of pocket. By refinancing into a VA loan, you could eliminate that fee.
Low Interest Rates – VA loan interest rates are very competitive, often even lower than those offered on conventional mortgages. If you can refinance at a lower rate, you could save yourself tens of thousands of dollars over the course of your loan.
No Minimum Credit Score – There is no specified minimum credit score, so lenders can make their own decision on how low of a score to accept. This can make it much easier to qualify if you have less-than-perfect credit.
Minimal Upfront Costs – While there is a one-time up-front VA funding fee to be paid on a VA refinance loan, it can be rolled into the total cost of the loan. The other closing costs are limited by the VA and are often much less than with a conventional loan.
What are the VA Loan Refinance Options?
There are three options when you are ready to refinance into a VA loan:
Interest Rate Reduction Refinance Loan (IRRRL) – This is for those who already have a VA loan on their current property and want to switch to a lower interest rate. These are also known as streamlined loans, as they are processed much quicker and require less paperwork than the original VA loan.
Standard VA Refinance – This can be used for those with current conventional loans. Lenders allow the new loan amount to be up to 100% of the home's value, a huge benefit not offered on conventional loans. Borrowers can refinance for better interest rates or swap an adjustable rate for a fixed rate loan.
VA Cash-Out Refinance – This is for any qualified active-duty or military service member, no matter what type of mortgage they currently have. Cash-out refinance loans allow homeowners to pull out some or all of their home's equity to use for any need or want they have.
How to Get Started
To start the process of getting a VA refinance loan, simply talk with us and begin filling out the required forms. We can help you determine if refinancing is in your best interest and which loan refinance option makes the most sense for you.
These materials are not from HUD or FHA and were not approved by HUD or a government agency.