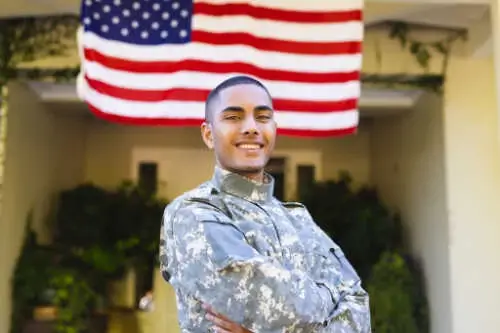 Home loans sponsored by the Department of Veteran Affairs, or VA loans, are an amazing resource for active duty military personnel. They offer low interest rates and do not require down payments. But what about if you have ended your military service? Can you still get a VA loan? In most cases, the answer is absolutely.
Eligibility Requirements
To qualify for a VA loan, the general guidelines stipulate that you must have served at least 90 consecutive days on active duty during wartime, at least 181 consecutive days during peacetime, or six years in the National Guard or Reserves.
Of course, your eligibility also depends on the nature of your discharge status. If you left the military with an Honorable (HON), Under Honorable Conditions (UHC), or General (GEN) discharge, you will typically automatically qualify for a VA mortgage.
If you were discharged with an Other Than Honorable (OTH) or a Bad Conduct, you can ask for an adjudication review of your case to see if you are eligible. If you fulfilled your service term or ever served a deployment tour you may be more likely to get a positive ruling. The eligibility determination could take the VA several months and it will depend entirely on the specific circumstances of your discharge situation.
If you were dishonorably discharged from the military, you will not be given veteran status or allowed to participate in VA loan programs.
Exceptions
There may be some exceptions to the above rules. You may still be able to get a VA loan if you have been discharged for any of the following reasons and have served at least 90 consecutive days in the military:
Discharged for hardship
Early Out
Reduction in force
Condition interfered with duty
Compensable service-connected disability
Convenience of the government
If you served for fewer than 90 days but were discharged because of a service-connected disability, you may still be able to qualify for a VA loan.
Proof of Service
If you believe you qualify under one of the scenarios above, the next step is to obtain your Certificate of Release or Discharge from Active Duty (DD Form 214) from the military. Or if you are a veteran of the National Guard or Reserves, you'll need to get a copy of your annual retirement points summary. The VA uses these documents to establish your proof of service. Once that has been verified, the VA will issue you a Certificate of Eligibility (COE), which your lender will need to complete your VA mortgage loan. Keep in mind that the Department of Veteran Affairs does not actually make the loans. They simply provide guarantees to lenders of repayment if the borrower defaults.
If you have any questions, reach out to us. We will be able to walk you through the process and point you to the right sources for additional information. Going through all the paperwork will definitely be worth it to get the incredible financial benefits of a VA mortgage.
These materials are not from the VA, HUD or FHA and were not approved by the VA, FHA, HUD or a government agency. In some cases, a refinance loan might result in higher finance charges over the life of the loan.