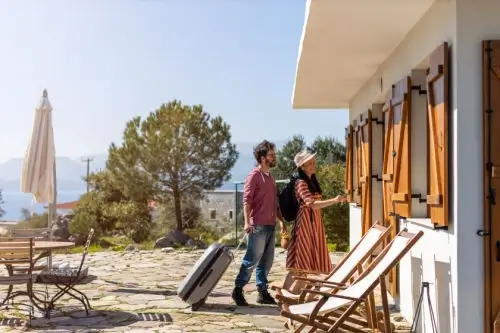 Buying a vacation home can be a great way to spend time in the place you love and save money over time on lodging fees. Here are 5 important steps to buying that dream property by the seaside or in the mountains.
Determine the Function of the Vacation Home

How often do you plan to be at the property? Do you intend to rent it out with sites like Airbnb or VRBO when you're not there? There are plenty of questions you should ask yourself before you commit to purchasing. If you do plan to turn it into an investment property for part of the time, you'll apply for a different type of mortgage loan than you would for a second home. And if you don't own a home yet, but intend to keep living in an apartment or rental house for most of the time, you can apply for a primary residence home loan.  Each type of loan has slightly different requirements that you should be prepared for before making an offer.

Run the Affordability Numbers

Once you know how you will use the vacation home and what type of loan you'll need, you can plug your income and assets into an online mortgage calculator to understand how much the monthly payments and taxes will cost. You can also talk with your lender to get a fuller picture of current interest rates and expected fees. You should also factor in maintenance and repair costs as well as rental company fees if applicable. The numbers will determine how much you'll be able to spend on your desired vacation getaway.

Get a Pre-approval Letter

Once you feel comfortable with the proposed home buying budget, you can ask your lender for a letter of pre-approval. This involves supplying important personal data like your social security number, paystubs, and bank statements to your lender. They will run a credit check and evaluate your documents and give you a preliminary promise of mortgage funding at a certain interest rate. You can then take this pre-approval letter to any seller to show them you are a credible buyer with financial backing all lined up. These letters are good for up to 60 days in most cases and can be easily renewed if needed.

Work with a Local Real Estate Agent

While you may be tempted to use the real estate agent you worked with to buy your current home, they are not likely to be an expert in your vacation home's housing market. Choose an agent that is local to the area; they will have the important inside information you'll need like who are good inspectors and contractors in the area. They'll also have a relationship with selling agents in the area. And if you're planning to rent out your property, you can ask them for referrals of good management companies.

Put in an Offer, Sign and Close

The next step is to find the right property and put in a winning offer. Once accepted, you will go through the inspection and appraisal process. If that all checks out, you will simply have to wait for the loan underwriting to be completed before you can sign on the dotted line and enjoy your vacations from the comfort of your own home!
If you've thought about a vacation home, give us a call today. We can help you run the numbers to see if it makes sense to you and if it does, we can help you get pre-approved for financing of your vacation home.